TobaccoFreedom.org is dedicated to resolving the worldwide epidemic that threatens millions of lives each year. This organization provides education and research services to officials, health policy specialists, educators and the general public throughout the world.
Our organization believes it is critical that tobacco users and nonsmokers establish responsible practices for adult smoking behavior. Therefore:
We do not advocate for the prohibition of smoking
We advocate for the rights of nonsmokers, particularly children
We advocate for dismantling the tobacco industry as it exists today
We advocate for a 100% ban on tobacco advertising
We advocate for increasing the legal age for tobacco use to 21 years
The record is clear that the tobacco industry obstructed the world's scientific understanding of the harmful effects to human health, including the addictive nature, of tobacco use, particularly smoking and second hand smoke. The industry furthered these deceptive and manipulaive practices to seduce consumers, increase their respective market shares for tobacco sales, and ultimately, increase their corporate profits.
For over fifty years, the tobacco industry conspired to deceive the public and manipulate public policy to protect their practices. Today, the tobacco industry uses their vast financial resources to propel (retain) political candidates into office who are willing to ignore the dangers of tobacco use, smoking and secondhand smoke. They sway public officials and persuade business leaders similarly with promises of financial returns.
TobaccoFreedom.org works to combat these practices by maintaining one of the most comprehensive archives of . We urge you to read these internal papers thoroughly. Truth allows us to create better social policies and practices for all people - and that is ultimately the purpose of freedom and democracy.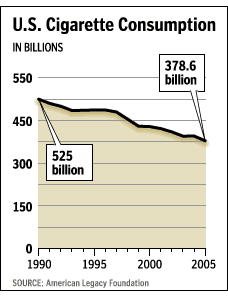 We are aware that most smokers and some nonsmokers generally understand the risks that smoking and exposure to secondhand cigarette smoke present to humans. While overall smoking continues its gradual decline in the U.S., our children become addicted at alarming rates. Over 3,000 American teens become regular smokers each day. Nearly 80 percent begin smoking while they are under the legal age to smoke.
These young, and innocent, are ill-equipped to defend themselves against the sophisticated and subliminal marketing by tobacco companies. They are unaware, and unable to fully comprehend, the addictive grasp of nicotine. They are unable to protect themselves from dangerous and deadly toxins that come from second hand smoke.
Even today, only a minority of citizens understand the devastating impact to human health and society that stems from smoking and secondhand smoke. TobaccoFreedom.org stands against these predators.
Organization
TobaccoFreedom.org is directed by .
| | |
| --- | --- |
| President | |
| Teen Relations | |
| College Activities | |
| Children at Risk | |
Headquarters
TobaccoFreedom.org
4513 Oahu Dr. NE
Albuquerque, New Mexico 87111
U.S.A.
Friends and Suggested Links
- Dedicated to snuffing out big tobacco
- Join the Challenge and get valuable resources to help you quit smoking
- Helping groups build effective tobacco control programs.
- Excellent information about addiction
- Defending a Generation (very cool!)
- Children's Books Designed to Help Young People Resist Tobacco
- Department of Health Cancer Prevention and Control program
- Comprehensive List of Sites Expressly for Children and Teens
- Indiana's ASSIST program
- Missouri's Tobacco Control program
- Scientific studies and education materials on tobacco use and abuse
- Special events, daily news, updates and more
- Home to the Great American Smokeout
- Two brothers who are helping rid America of tobacco vending machines
- Addresses virtually every subject related to tobacco issues
- Tobacco-related news, databases and ready-made legislative letters
- (STAT) Fun activities and a national forum
- (FDA) Young Americans, tobacco and FDA action
- Sites that offer information for and about kids
- Action on Smoking and Health, the nation's oldest antismoking organization
- Dedicated to nonsmokers' rights
- National Kick Butts Day (April 14, 1999)
- Helping New Mexico's youth people begin each day healthy
- Illiniois HS senior's efforts to help America's youth
- World's largest site dedicted to group smokefree issues